Book Reviews
This is the home of Jenny Dowell OAM's monthly book review.
Jenny is an avid reader and vocal supporter of libraries. Her reviews are always thought provoking and well constructed. A link to reserve each book appears at the end of her review. You can receive Jenny's reviews and other exciting news every month in our library eNewsletter by subscribing HERE.
__________________________________
February 2020
The Testaments
by Margaret Atwood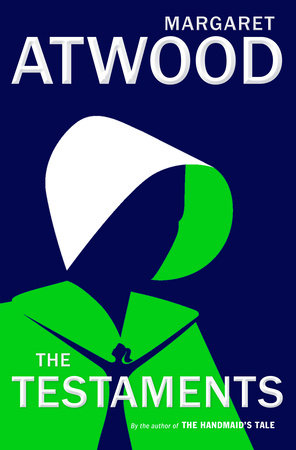 Unputdownable!
This highly anticipated book will grab you from the first page.
Thirty four years after The Handmaid's Tale was published, Canadian author Margaret Atwood has written The Testaments that takes us back to Gilead and its dystopian world.
The book interweaves the stories of three main characters over a period of approximately 10 years. Their stories are told in chapters of first person voices that alternate throughout the book. When we meet Agnes, she is a young girl who has lived her life in Gilead and, when she is thirteen, she is to be married to a Commander. The second major character is Aunt Lydia, that powerful and complex personality from the original book. We hear much more of Aunt Lydia's pre-Gilead life and the horrors of her recruitment. Daisy, the third story teller, is a teenager living in Canada who finds out she is not who she thinks she is and is recruited by the Pearl Girls to go to Gilead.
Like most people, I had read The Handmaid's Tale when it was first published and then binged on the magnificently produced TV series, the later seasons of which moved on from the original book. Atwood had been closely involved in the production of the series and in the acknowledgements at the end of this new novel, she pays tribute to the writers and actors from the series for respecting one of the axioms- that no event is allowed into the series or the novels that does not have a precedent in human history. Atwood refers to The Handmaid's Tale as 'speculative fiction' making both books more chilling.
The Testaments takes up the story of Gilead, 15 years after the end of the TV series where June (Offred) flees Gilead with Baby Nicole. June herself appears briefly but without name at the end of the book.
The story is compelling and complete. The last chapter takes us to a symposium on Gilead in the year 2197. The transcript of the symposium neatly ties the ends together and concludes satisfyingly.
It is not necessary to have read The Handmaid's Tale to appreciate The Testaments but viewing of the TV series (available free on SBS on Demand) before embarking on this new book will certainly enhance the reading experience.
Cheers
Jenny
---